Hey You! Yeah you, Judgey-boy! Yeah, i see you there, all struttin' about like you own the block. You got ya fancy guns an' ya big ol' shiny shoulder pads, but you ain't all dat. We done seen a hundred mamma's boys just like you before. An' where are they now? Well, if'n they're smart they're back at judgey school, learnin' who not ta mess with. if'n they ain't smart? well...we got us some nice earings made a dumb judges' badges. what's that you doin' there, darlin? Yeah - I see you tryin' ta call for backup. you must be one a the smart ones round here. you know you cant take us by yoself, so you callin' ya li'l friends? Bring it on, boy! We're the new law in town! We're movin' in and takin' over. You gotta problem wi dat? Huh?
Come git some...
Exhibit A: Gladys. Arrest record: 173 counts of aggravated assault (once with a teacup), 219 counts verbal abuse of judge (see file 19432:FUJ for examples). Case file notes: Always angry.
Exibit B: Snipes. Arrest record: none. Positivel IDs: none. Case file notes: ellusive.
Exhibit C: Pinky. Arrest record: 1 count of fashion abuse. Case file notes: Genki!
Exhibit D: May-Beth. Arrest record: 3 counts of assault (gave 3 passing small boys a clip round the ear for use of bad language). Case file notes: Very protective of younger gang members.
Exhibit E: Twiglet. Arrest record: 112 counts of vandalism, 17 counts of verbal abuse of officers, 2 counts of being a pain in the arse. Suspected of many more crimes, but is a master of disappearing like snow off a dyke. Case file notes: Antisocial tendencies.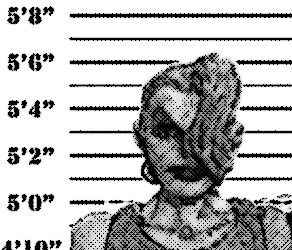 Exhibit F: Mandy. Arrest record: 2 counts of theft. 1 count of vandalism. Case file notes: Always baffled. By everything.
Exhibit G: Raven. Arrest record: 1 count of murder. Case notes: Raven was serving a life sentence in an iso-cube when she was busted out by the surviving members of her gang. Now on the run, she is considered extremely dangerous and judges are, of course, authorised (and encouraged) to shoot on sight.
*note from me* This is all just for fun. And dont point out the discrepancy in the height chart on the mug shots